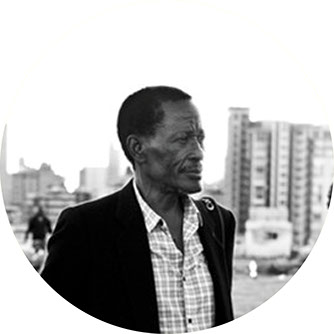 Memories are Photographs of Ghosts
Peter Machen speaks to celebrated South African photographer Santu Mofokeng about the major exhibition Invoice, currently on show at the Durban Art Gallery, which surveys his last 25 years of image-making
Santu Mofokeng's calling to the camera came quickly. While he was still at school in the early 70s, he had already embarked upon a career as a street photographer to earn some money. In the schools uprising of 1976, however, he lost his camera and didn't get another one for several years. But the experiences of '76 brought home to Mofokeng the power of the photographic image as a tool of consciousness-raising and political subversion.
Ten years later, Mofokeng, now stridently aware of his calling, was a member of the seminal independent photographic agency Afrapix, which played a leading role in documenting the growing resistance to the apartheid regime, and whose legacy continues to exert a major influence on South African photography.
Now, 31 years after the Soweto uprising, Mofokeng is one of South Africa's most critically recognised photographers, acclaimed around the world as a leading contemporary talent. In the words of David Goldblatt, "his photographs of life and landscape in Southern Africa are among the finest that we have".
Invoice, which opened at the Durban Art Gallery on Thursday, includes images from the major bodies of work produced by Mofokeng between 1982 and 2006, with much emphasis on the landscape on which Mofokeng has focused for much of the last decade. These are landscapes in the broadest sense of the word. From the urban periphery of South Africa's townships to the lives of tenant farmers in rural Bloemhof to Zionist rituals taking place in caves in the Free State to the implicit devastation of Auschwitz, his collective work constitutes a haunting meditation on the relationship between landscape, memory and identity.
​
I spoke to Santu after he had spent a long day driving from Johannesburg (he left at 3am) to Durban and then hanging his photographs in the art gallery. By the time he is ready to talk to me, the gallery is about to close. He gives me a whirlwind walkabout and we then eject ourselves onto the gallery steps for a smoke before deciding that a drink might be in order after such a long day, and we head for the bar in the Royal hotel.
But before we do, Mofokeng talks about his need to wrest some element of control from those in the media that write about him and his work. He says that he and his work are seldom represented with any accuracy in the publications which cover his shows. And while it's common for our local media to dismiss the visions of artists in favour of a reworded press release, Mofokeng makes the same attack on some of the planet's leading publications. Some journalists, he thinks are lazy, but most are simply not aware of what they are doing. Most people, he says, when they ask him questions are simply talking about themselves.
I bring up an article I read on the net from one of America's most prominent and celebrated newspapers which discussed Mofokeng's images of Auschwitz. The article explained his work as that of an African coming to Europe. I had thought this faintly ludicrous when I read it, but for fear that I was being an oversensitive African, I mention this to Mofokeng. He falls about in hysterics for a few minutes in response. This is something he does frequently during the next two hours. He clearly finds much of the modern world surreal and ludicrous, and these outbreaks of hilarity, laughingly indignant, are as fitting a response to the world he sees as his images and his often eloquent oration.
While we're on the subject of other people's interpretation and his battle to make his own reading in some sense primary, I ask him if he thinks that his interpretation of his own images is more valid than that of others. Not more valid, he replies, but they are his images, and he would like ideally, to have some degree of control over their meaning.
​
There are ghosts everywhere in Invoice. On the one end of the gallery, people dance with their ancestors in caves outside Ficksburg and Fourieseburg. On the opposite wall is a single image of a warehouse in Auschwitz – a concentration of ghostlands – seen through glass, with Mofokeng's face reflected in the bottom Between them are a geography of landscapes, some populated by people or animals, mostly unpopulated; but all except a single images – a breathtaking large format image of the Namib desert – depict landscapes which either include people or which have been altered by people; the ghost of humankind, slowly evaporating, being erased by the landscape itself.
I say ghosts, Mofokeng says memory. And I'm not sure, in truth, if there's any difference between the two.
It's not surprising to learn that Mofokeng worked under both Jurgen Schadeberg and David Goldblatt. These two giants of South African photography are worlds apart from each other; Goldblatt's stark formalism and powerful explorations of place set against Schadeberg's poetry of deep humanist empathy. In visual terms Mofokeng does indeed walk the middle road between these two once-masters-now-contemporaries. In fact "middle way" is exactly the word he himself uses. Which isn't by any means to suggest that Mofokeng's work is simply the splicing together of two talents. He might occupy that artistic position in visual terms but the world that he evokes is all his own, filled with a vision that is far more left-field and idiosynchratic than either Schadeburg or Goldblatt.
I ask him a little later, if he has attempted to take another middle road. In the way that he answers – or doesn't really answer – many of my questions, there is something of a Confucian or a Buddhist. He tells me that he has been on several roads in that direction, beginning with the eight forms of yoga. But he does not even begin to suggest that he has found an answer. But I will tell you that his laughter, when it erupts is so high-pitched that is almost soundless. And it goes on for a good while.
Before I question him about his spirituality, I've already ventured into other territory, and have asked him if he is depressive by nature. He smiles squintly at me and then says "manic" followed shortly by "depressive" and a wry chuckle. He sometime takes medication to counter the condition that is now referred to as bipolar but which is surely as old as philosophy. But he is not at the moment medicated.
He tells me how he read Socrates as a young boy. "And if you're reading Socrates at that age, you know trouble will be coming your way". He tells me also that, at the age of 51, he thinks that he is living on borrowed time – not because he is spectacularly old, but because his family has a history of very short lifetimes, his father having died at the age of 44. He relates his enormous sense of visions still to be realised, of projects still to be completed.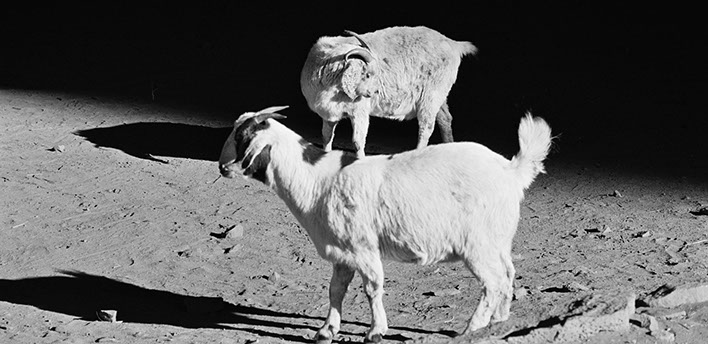 I suggest to him that if he lived to 150, he's probably still have the same problem. He nods in wry agreement.
One of these projects, entitled The Black Photo Album/Look at Me, although it includes none of Mofokeng's photographs, nonetheless shines much light on his approach to the importance of representation in photographs. The Black Photo Album is a series of digitally reworked 19th century formal portraits of black South African Families. The project came into being in response to the fact that in South African photographic records black people are usually present only in their relation to hierarchy, and are seldom represented as fully human beings who have lives and families. Talking about these images, Mofokeng has said elsewhere, "When we look at them, we believe them, for they tell us a little about how these people imagined themselves. We see these images in the terms determined by the subjects themselves." The project is not so much a labour of love, as laden with love. And implicit in the project's importance is this notion of imagination as opposed to the objectivity of record. We build the photograph. The photograph builds us.


Mindful of Mofokeng's acknowledgement - and also admonishment – that the interviewer are almost always talking about themselves, I hold back my readings of his images. But as Santu gets into his second double whiskey (I abstain, I cannot write after more than one drink) I bring up once more the notion of ghosts. I suggest to Mofokeng that his images are populated by ghosts of various kinds. But more than that, that in his images, he too is a ghost (sometimes almost literally so, when he appears in a reflection in an image). He is the man who clicked the shutter, who stood in that landscape and then disappeared. And more than that, that the viewers of his images also become ghosts. They stand in front of the images, for seconds or for minutes, all the while their translucent reflection fused with the landscape they are looking at. And then they are gone. I tell Mofokeng this. "That is a compliment," he says.
While he may have made his name as a documentary photographer, the world of the single instant captured in time is clearly no longer the world Mofokeng occupies. Whether he ever did is another question entirely, and one that I never get round to asking. Mofokeng's world is far more concerned with the time that lies on either side of the photograph, the time that came before and the time that comes afterwards. From the seemingly eternal memories of Auschwitz to the sands of the ever-shifting Namib, the only victor that remains after all humankind's actrocities, conceits and frailties is time itself.
Despite his desire not to be labelled, Mofokeng does, during the course of our conversation, admit to being several things. He is a poet. He is a photographer. He does not call himself an artist but he endorses my claim that he is one. He is a meandering soul. He is a manic depressive. He is a father, with all the extra meaning that might have for an artist. He is fond of alcohol. And some of the medication he takes is really, really great!
And through all these things, and after two hours spent in his company, I am left with nothing so much as the revelation that he is in essence a beat poet. The rhythms of his narratives, both visual and spoken, spread out in all directions and then return refracted through a single point, before once more arcing up through the atmosphere. His pictures, extraordinarily diverse as they are in content, are all bathed in the poetic. And bear in mind that the poetic can also be brutal. Yes, he is a beat poet on all counts. And he is a man.