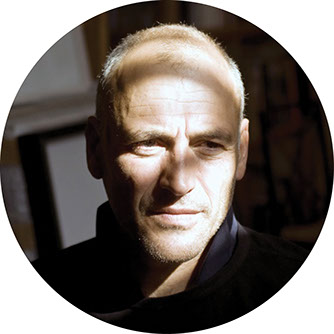 War, beauty and moral inconclusions
Guy Tillim is one of South Africa's foremost photojournalists. He has freelanced all over Africa and beyond, creating award-winning pictures in the process. He was in Durban for the launch of his book Departures, and an exhibition at the NSA Gallery. Peter Machen spoke to him about the things he sees
A dog is caught between two lanes of traffic on a road in Guyana. Women avert their faces and close their eyes to a dust storm on an Angolan street. Two Civil Defence Force militia men stare into the camera on a jungle path in Sierra Leone. A young woman from a displaced family gazes out across a barren Eritrean landscape. And in Jerusalem, ancient grave-stones look like strewn rubble, cooled off and discarded by the volcano of history.
These are the images from the lens of Guy Tillim. They all share a remarkable beauty, tinged with a distinctive sense of grace and restraint. Yet the reality from which they have been plucked invariably exists in sharp contradiction to the distilled photographs which result.
A photojournalist working mostly in Africa, Tillim has spent much of his career journeying through the continent and beyond, wading through the heart-wrenching aftermaths of civil wars and their resulting political and economic disasters. From Angola to Afghanistan, he has documented brief fragments of transcendent humanity in landscapes which have been all but completely dehumanised.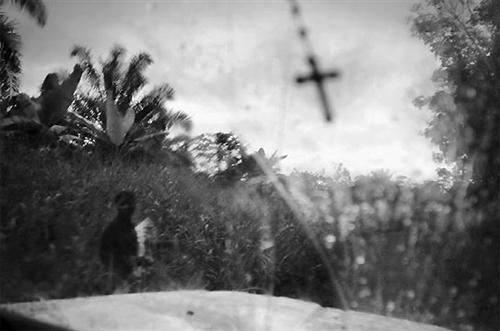 I ask Tillim about the fact that these photographs seem to be artistic objects before they are informative.
"Ja," he responds, "That's something I think about. In these places, where people are living, often in reduced circumstances or close to war, I'm there ostensibly as a journalist. But you've got to ask yourself certain questions, and one of them is why you are there. And there are no easy answers.
"You are confronted with suffering, with people who need help, and you're there only to take pictures of them. It's quite tough sometimes. And you wonder to what extent you can be useful at all. And then you question your motivation. Are you there in order to tell people's stories? And if you are, how effective are you? "Often you realise that you're not very effective at all. Firstly, because you're probably not up to the task. And secondly, because the world doesn't care that much. I'm not saying that people should. I mean, I wish they would, but I don't think they do. And I don't know how to change that and I don't think that's my mission. I don't think that's what I set out to do in the first place."
Does he know now, after all this, after all these wars, and all these photographs, what it is that he set out to do?
"Frankly, no. But you do set yourself on a certain path. And you choose the path depending on where you come from, on what happened to you, on where you grew up and so on. And where we grew up – here in South Africa in the '70s and '80s – our lives were quite circumscribed. There were a lot of barriers."
"I remember taking pictures for the first time – I think it was during the mid-'80s – and I was quite conscious of the fact that the only reason I wanted to take pictures was because the camera enabled me to cross these barriers. It was only at a later point that I became interested in the pictures themselves, whatever import they might have built in my life."
​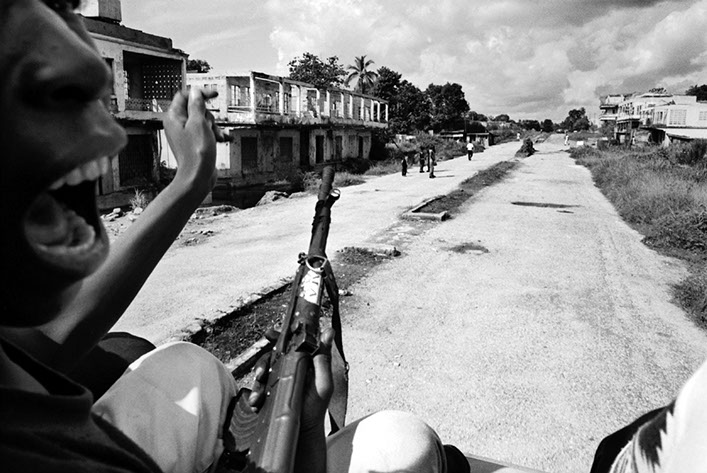 And does the work that photojournalists do ultimately have an impact on the world?
"I think it does to some extent. People become aware of wars and mayhem in distant place because of journalists. But the question is, I suppose, to what extent do they become aware, and how accurate is the information they are given.
"Yet, if there is an event or catastrophe, we wouldn't hear about it unless certain journalists – and I'm not one of them – told us what was happening."
As photojournalism goes, the collection of Tillim's pictures in the book and displayed on the walls of the NSA Gallery are refreshingly oblique. They wear neither their content nor their hearts on their sleeves. The familiar, rather direct language of African photojournalism is absent. The starving baby, the child-soldier and the voting elder are replaced with almost abstract images. A strange decontextualisation happens, where the image and its meaning transcend their historical specificity. And Tillim, in the process, breaches the gap between photojournalism and fine art.
In one picture, for example, we look through a cracked windscreen out on to mountains in Afghanistan. In the corner of the picture a figure is walking along the same road being travelled by the photographer.
This is, in fact, the road between Kabul and Mazar-i-Sharif and the picture was taken in 1996. It is a simple and extraordinary image, the intricate cracks of the windscreen given a near religious beauty by the glinting sunlight.
As I page through Departures and think about my conversation with Tillim, this cracked windscreen comes to represent a rather obvious metaphor for photographers in general and, specifically, for Tillim.
The rock that must have caused the damage has left a dark centre of densely fractured glass that looks like a pupil, and the cracks that radiate from it give the impression of an iris. So it is an eye – the photographer's eye – and it is also a barrier, a boundary.


After more than 20 years of using his camera to cross borders, he cannot cross that final frontier. He can visit these places but he cannot stay. He cannot walk in the shoes of another man or woman. He cannot break through the shatterproof glass, even for the split second during which the image is taken. And the photograph feels like a realisation. It feels like Guy Tillim's road to Damascus.



​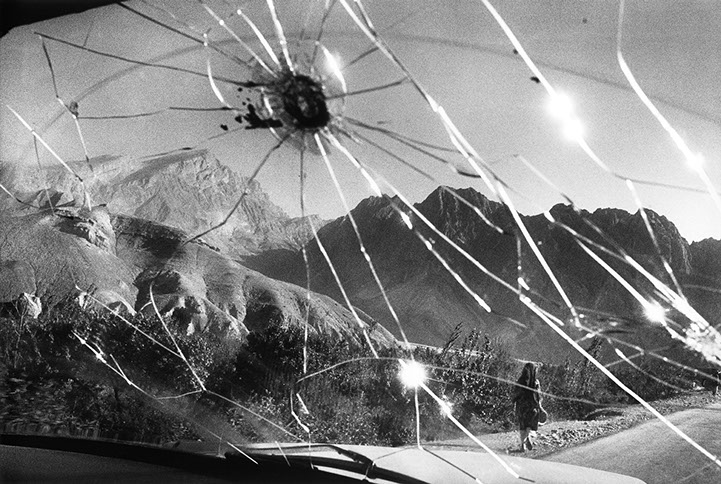 I ask him what emotional toll his travels and images have taken.
"We're all affected by these things. We're affected by the war in the Congo, whether it's by refugees arriving in our country or by not being able to trade goods with our neighbours. And we're affected in other ways, psychologically, spiritually. And I think these have been interesting boundaries to cross, as a person. And in so doing, I might find within myself some moral courage."
"But I'm not so sure anymore. I don't regret anything. I don't feel scarred. In a strange way, I feel privileged to have been allowed to see these things by the people that are undergoing them." He says it quietly, truthfully, and stresses that he is no gung-ho photographer, that he doesn't regularly go to Africa's hot-spots packing his camera like a revolver.
But I don't quite believe that Tillim bears no scars from his vocation. It's not that I think he's lying, I just think that maybe he's found some degree of peace with the damage and the contradictions central to his work. "I'm a tourist in these places," he says. "I don't live there. And I'm struck by the gulf between me and the people who live there. And there's really not much way of crossing that. Unless you take sides and become part of that situation. And I've never somehow had the inclination or, perhaps, the courage."
"I think a lot is made of journalists who move through this valley of the shadow of death. But they're there for such short periods. And the extent to which they move through it varies enormously. I'm not a war correspondent. And I'd hate you to think that."
"You're doing a job and there are certain parts that require some courage, yes. But it's not that you're ducking bullets or missiles all the time. Mostly, the worst part about these trips into places where people are having a rough time, is coping with your own doubt. About who you are, and about the situation. And that's probably the hardest part."
In the midst of all this uncertainty, this dearth of conclusions, I take recourse in some of Tillim's own words in the foreword to Departures. "Of course, there is always this: To change what is ugly and brutal into something sublime and redemptive. So I have photographs I like for reasons I have come to distrust."
Once, we believed that cameras could capture truth. And sometimes, occasionally, almost by mistake, they do.